The weekend came and is almost over. This weekend was a pretty good weekend with LOTS of shopping and lazying around.
We started our Saturday by going to watch the Dark Night. A must watch movie! It was pretty scary in some parts but hubby and I thought that it was awesome.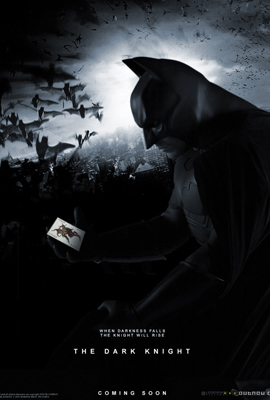 Then we went to
Willowbrooke
mall to walk around. We didn't have much time because it was almost 2 pm after the show was done and we barely ate anything the whole day so we just went to some stores that we/I thought that it was worth going at that time.
I think I spend enough money this weekend. I got a Coach purse, a pair of jeans and a couple of dresses from Forever 21. I was about to buy a pair of jeans from Abercrombie & Fitch when the sale girl told me that Forever 21 jeans fits better and it's way much cheaper and being the cheap person I am I headed to Forever 21 because I thought if I don't like it I can go back to Abercrombie to buy theirs..Luckily I liked it and it saved me a bunch of money..hahah..We had to start heading back at about 4 pm because both hubby and I were getting really hungry. All we ate the whole day was popcorn and had some soda while watching Dark Night. Hubby quickly wiped up some salad for dinner with some grilled chicken that we made on Thurday night. Later that night we finally watched JUNO (I've been wanting to watch it since the release of the movie). I thought that was a good movie too. I was surprised that the show was actually filmed in Minnesota.
Sunday we got up and hubby made breakfast. Then we went to the Asian grocery to buy some groceries because I haven't been to any Asian grocery store here. I bought a slab of pork and I'm actually going to attempt to make Roast Pork/Siew yoke (will tell you how it turn out). I quickly marinated some chicken too so that we can grill them for dinner tonight. SIL called to see if we wanted to go shopping today and hubby told her that I would never not want to go shopping. So we went to Katy mall with her. I didn't really get anything today..hahha..I bought a pair of Hello Kitty pyjamas(I love Hello Kitty; childish YES but I still like it) and a pair of Banana Republic shoes. SIL was looking for work clothes but I don't think she bought many. I had to hold my self from buying any because I want to wait and see what kind of job I'll be doing before buying any more clothing moreover I already bought some at Forever 21 which should be enough for keep me from wanting to buy clothes at the moment :). Hubby got a book, a pair of Oakley sunglasses and a cast Iron pan..hahah..he insisted on buying the pan so that's his and I think will only be use by him because I don't care for cast iron pans/pots. Hunger always cut my shopping trip short. We were hungry and decided that it was time to go home. Hubby started the grill while I quickly wiped up some potato in the oven and made some frozen corn in the microwave.
We didn't even have time to groom Stanley today. He missed his bath today so it'll have to be tomorrow. I doubt that he's going to miss taking a bath..hahah..
Plenty of malls to visit, plenty of shopping to do now I need is a job so that I can continue my shopping plans..*fingers cross* will seriously need to start sending resume out.
How was your weekend?